My collection for sale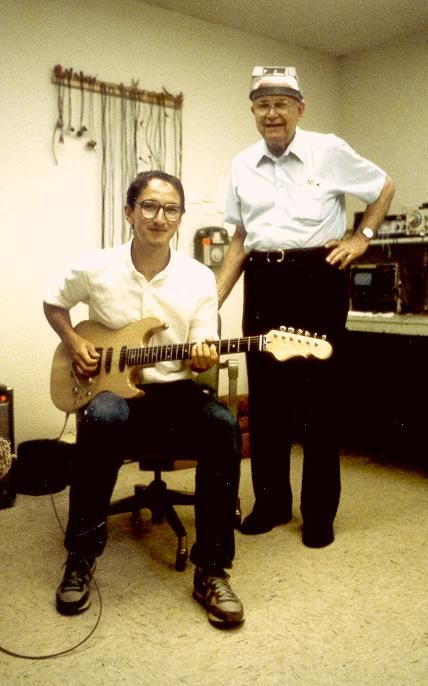 I started buying quality guitars in 1974, I started collecting them in 1978 and I kept doing it since then. When I moved to a smaller home I had to to reduce my collection, keeping only the guitars I felt in total empathy with: a few, excellent instrument that I selected during the years for an outstanding condition, a perfect playability and a good tone.
I recently stopped playing the electric, so I decided to sell most of the last ones. As said, my guitars are in perfect original condition, fully original, mantained with the utmost care and - in my opinion - awesome sounding. Being well known in the guitar world, people are safe when dealing with me. Besides this, please note that:
I do not **need** to sell, so please do not ask substantial discounts. I will obviously consider serious offers.
I am not interested in trades, except for a few rare Ovations that appear in the chapter "Ovation wanted" in my Roundbacks page.
I am available to disassemble the guitars and provide a full photographic documentation upon serious requests and real interest.
You can get in touch with me at g_sale@biraghi.org for further requests. - Alberto Biraghi.
Fender no-caster 1951 - #0939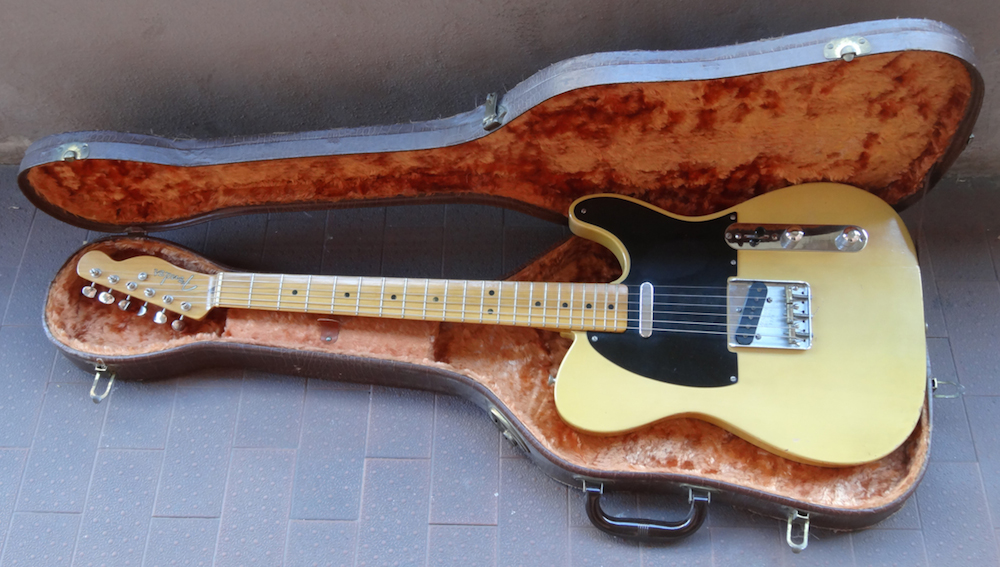 April 1951, bought in January 1993 from Gruhn Guitars. I'd describe it as near mint considering the age. Totally original, frets have no wear. Original case. SOLD
Fender Telecaster 1957 - #21650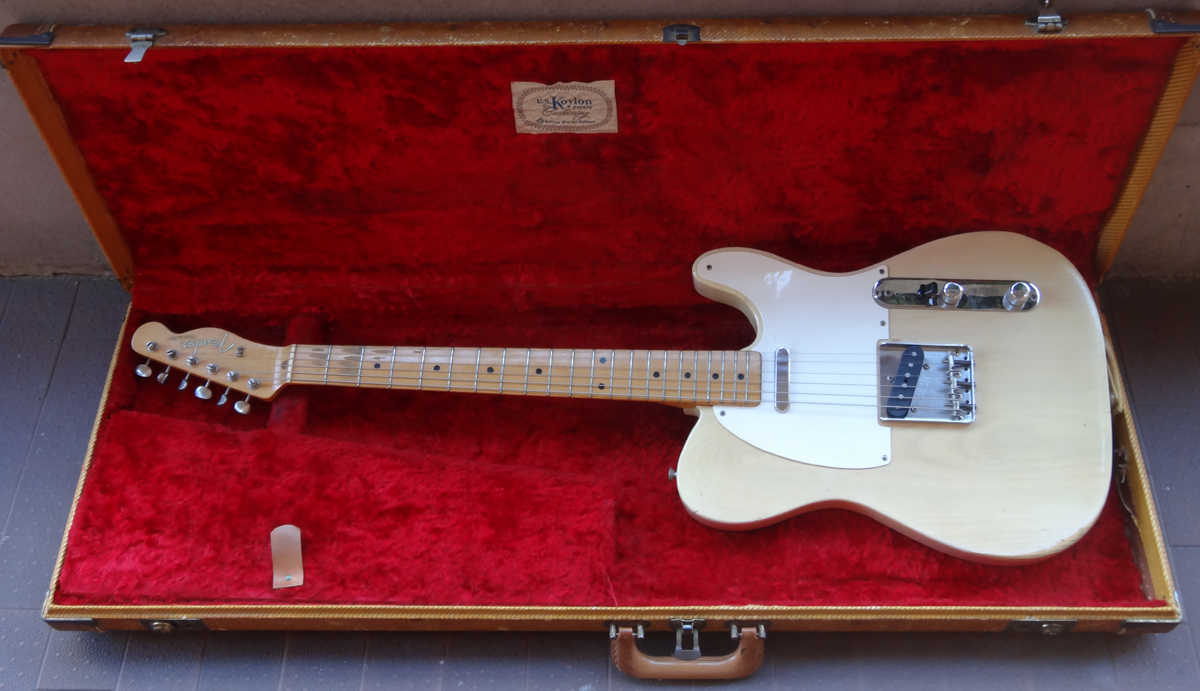 Super clean with just some minor finish wear on the neck first positions. Stunning flamed maple neck. Original tweed case. SOLD
Fender Stratocaster 1958 - #34211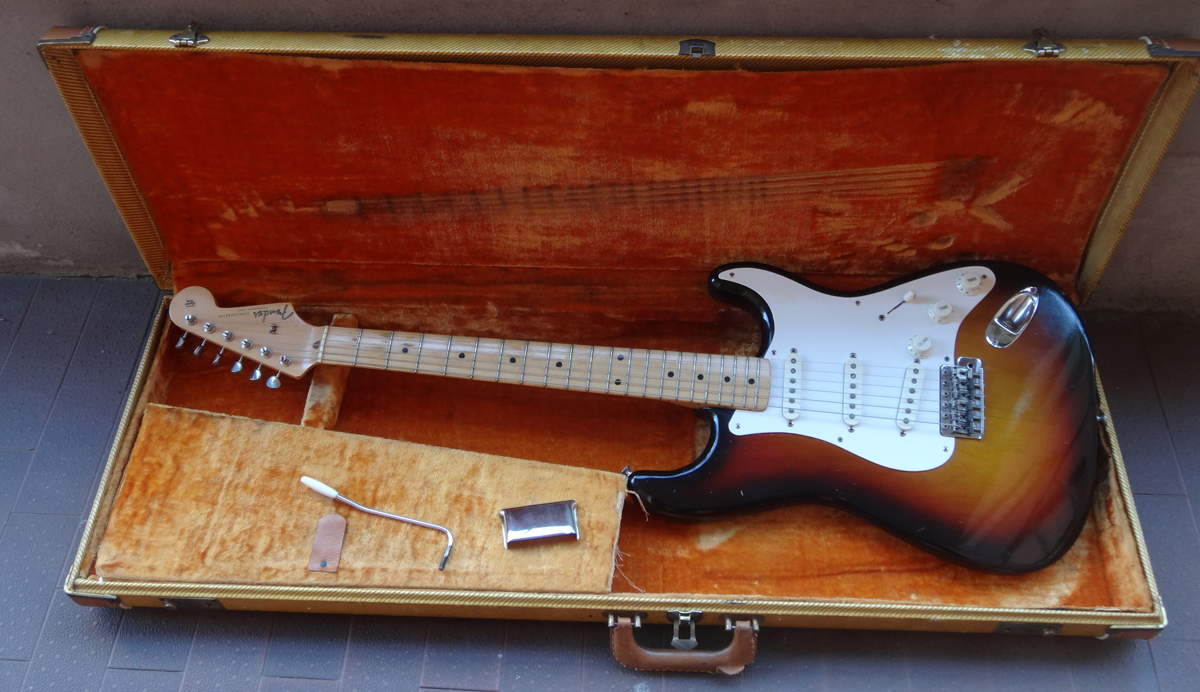 So clean it looks like a Closet Classic masterbuilt. Late 50es tone. Perfect fretboard, great tone. Original tweed case. SOLD
Fender Stratocaster 1964 white - #L23574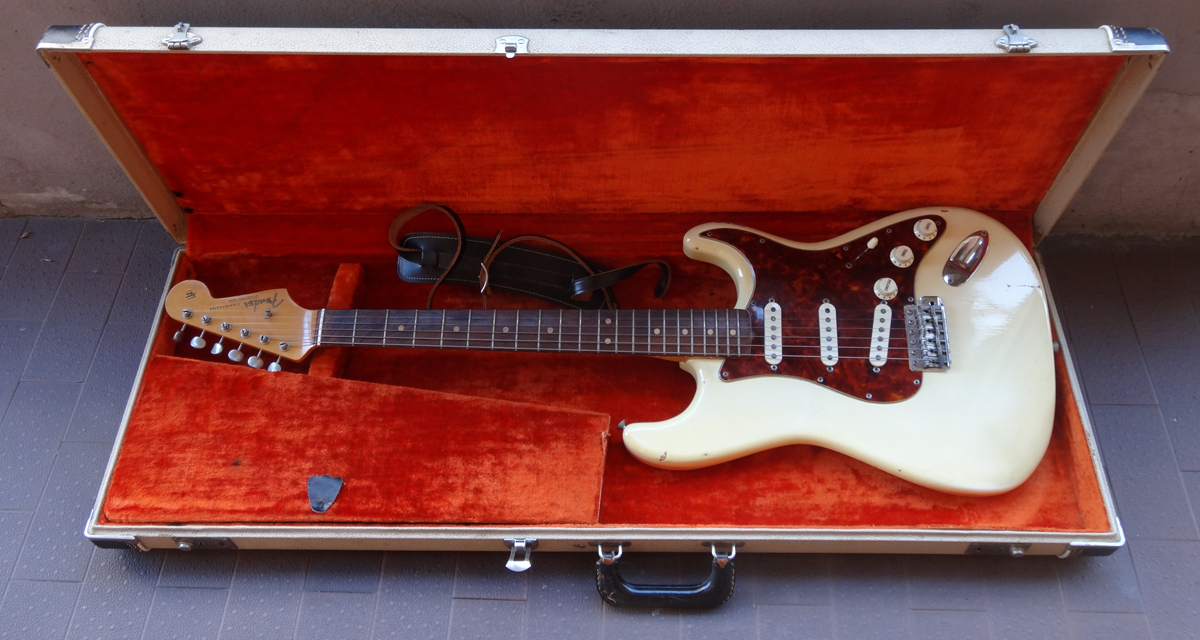 Very clean, pleasantly yellowed. Perfect fretboard. White tolex case. Gruhn Guitars direct appraisal. SOLD
Fender Telecaster 1964 - #65675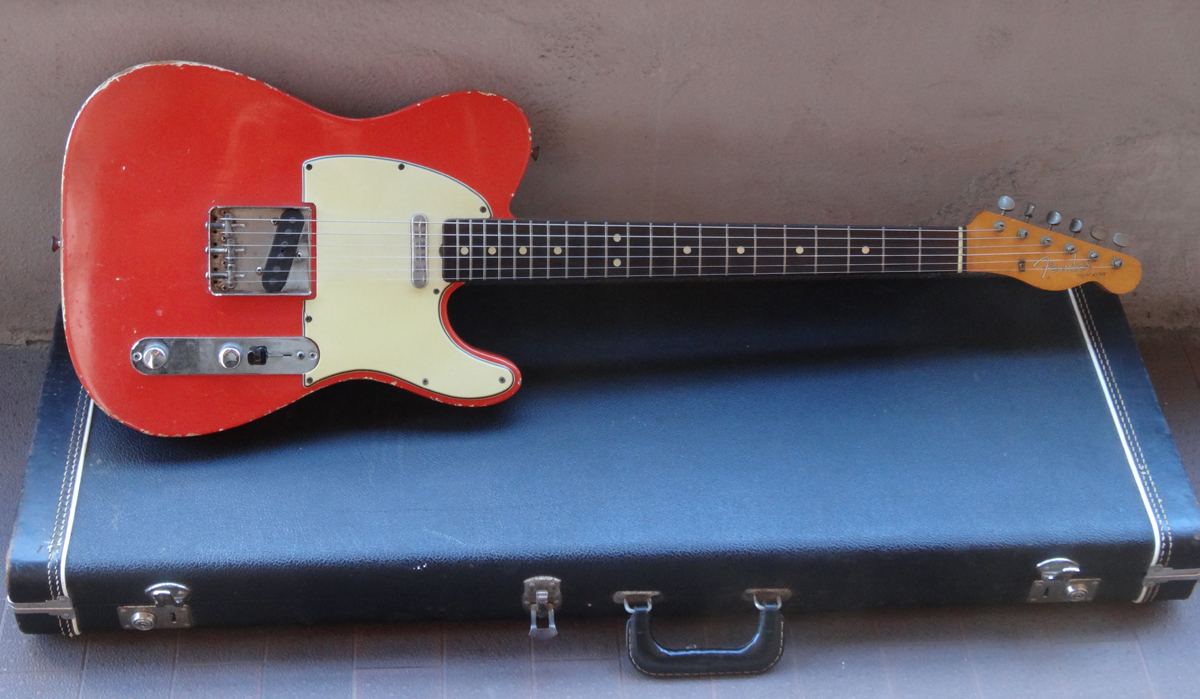 The sexiest rosewoodboard Tellecaster ever made. Amazing tone. Well used, surely not abused. Frets sill have a lot of meat. Appears on the cover of ACCORDO's book about Fender story. Black tolex case in decent shape. SOLD
Fender Telecaster Thinline 1969 - #270443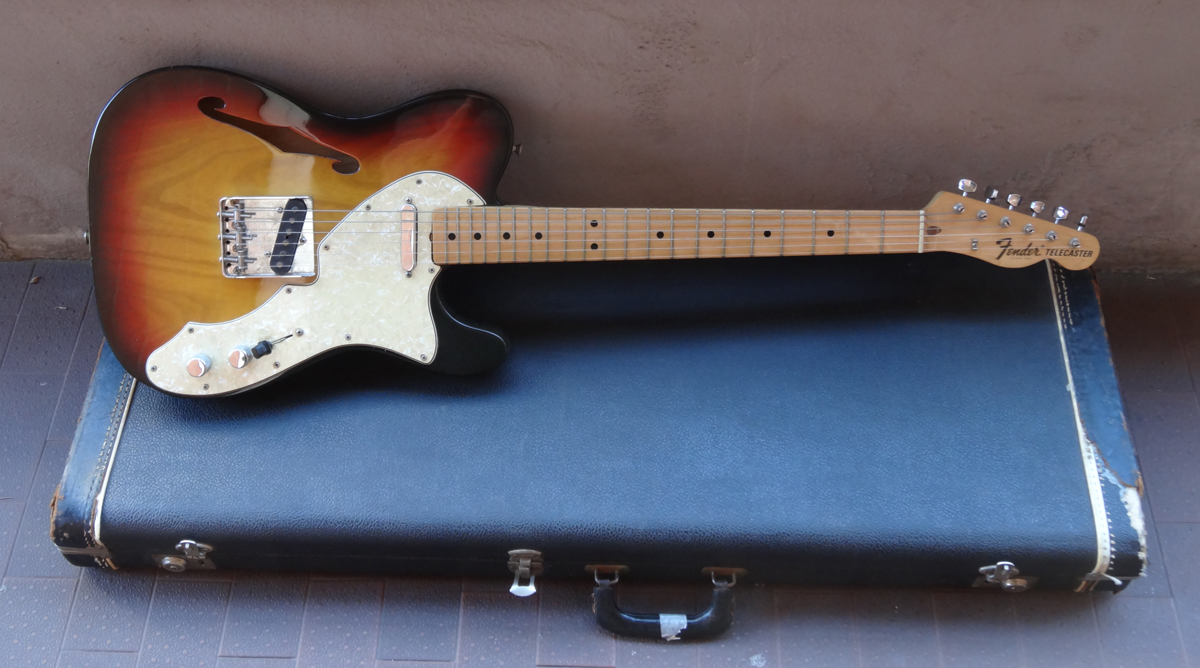 Nice 1969 Thinline in the smooth late 60's three tone burst. Excellent ++ with black tolex case. Perfect three tone burst. Neck pickup rewound by Gruhn Guitars. USD 10,000.00 - FOR SALE C/O GRUHN GUITARS
Fender Telecaster Thinline CS 1989 - #98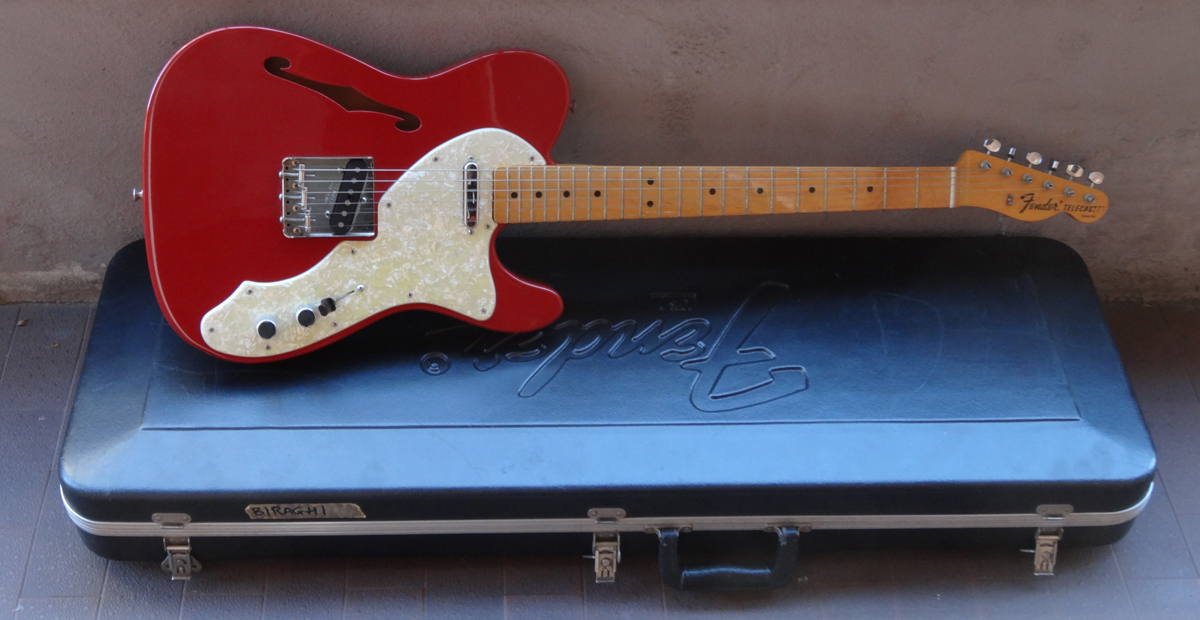 Built by Scott Buehl and dated February 2, 1989, bears a serial number #98, one of the very first guitars built by the just established Fender Custom Shop. Near mint except for a small ding on the lower side. Black Fender case of the era. Bought from Gruhn Guitars in the mid Nineties. In the late 90'es a well known Fender masterbuilder told me that the neck might be a leftover from the mid 60'es, because the early Custom Shop did not make maple boards. For sale in Italy @ € 4,000.00
Gibson Les Paul jr. 1957 - #7-2442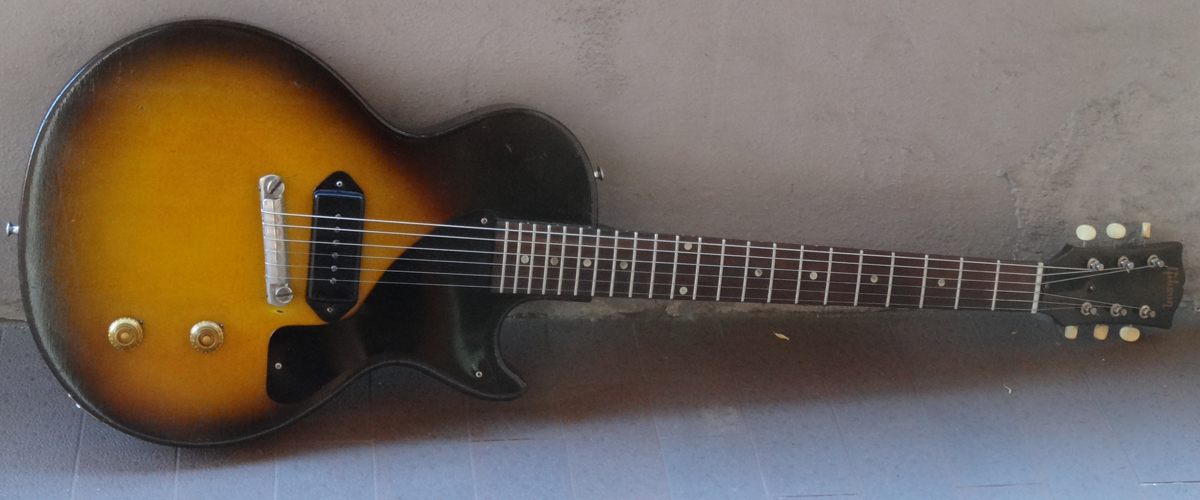 My only non-Fender electric, one of the five best sounding guitars I ever heard and played. Professionally refretted. Bought from Gruhn Guitars in the early 90's. Comes with an aftermarket custom case of the same age. For sale in Italy @ € 5,500.00